Gibson Mini-Etune Tech : PUSH – STRUM – TUNED – PLAY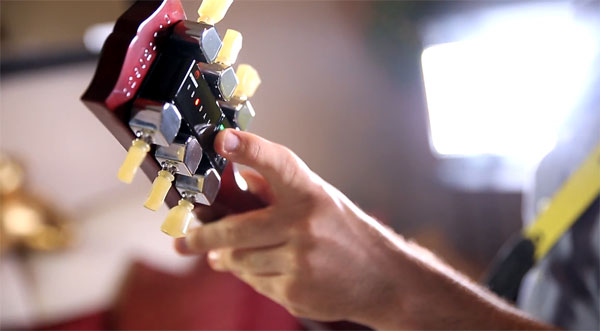 The Gibson Min-ETune (available in Gibson Min-Etune Guitars) is a compact, battery-powered robot tuner that tunes your guitar in seconds and delivers 80-100 tunings on one charge. Adjust the tuning pegs manually, turn on the Min-ETune to tune all six strings to perfect pitch automatically, or select any of 12 popular alternate tunings (including six, you can program yourself). You can even adjust your guitar's tunings to match other instruments. A guitar with Min-ETune feels the same, looks the same (the unit mounts onto the back of your guitar's headstock), and plays the same. But most importantly, it sounds the same – Min-ETune works by tuning the physical strings, not by digital trickery that degrades your tone. Save time and money in the studio, keep the flow going onstage, enhance your creativity with new tunings, and more. You take care of the playing – The Min-Etune will handle the tuning.
Any guitarist can tune a guitar but you're just a human. Min-ETune tunes all six strings simultaneously, with an accuracy of 2 cents, in seconds. Spend time playing, not tuning. Your audience will thank you, too.
Gibson Min-Etune Guitars are available at Furtadosonline.com as well as our prime stores throughout the country. Do get in touch with us for more details.